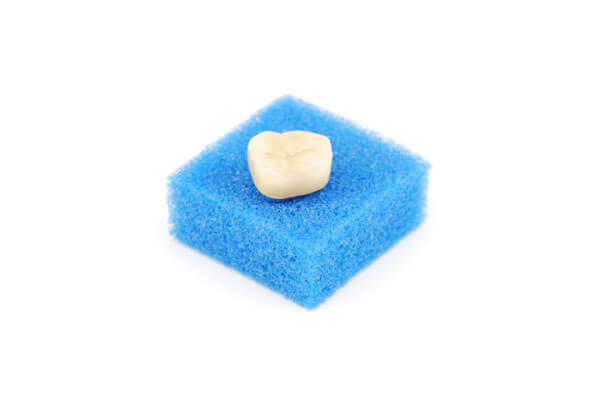 ---
A crown is a dental restoration,typically made from high strength ceramic, that completely covers the outside of a damaged tooth. Dental crowns can be completed in two visits. During the first visit, the tooth is prepared and an impression is made. A temporary crown is placed while the permanent crown is being made. During the second visit, the permanent crown is fitted comfortably and then cemented into place for a permanent restoration.
---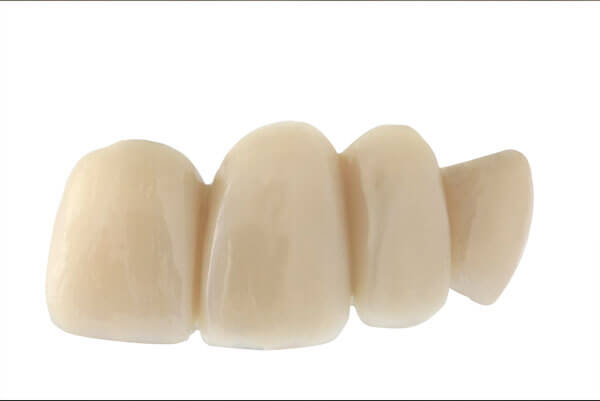 ---
A bridge replaces missing teeth without the use of a denture or dental implant. A false tooth is held in place by being attached to a neighboring tooth. In order to fabricate a bridge a crown(s) is made for the teeth on either side of the space and a false tooth is placed in between the crowns, as a support.
---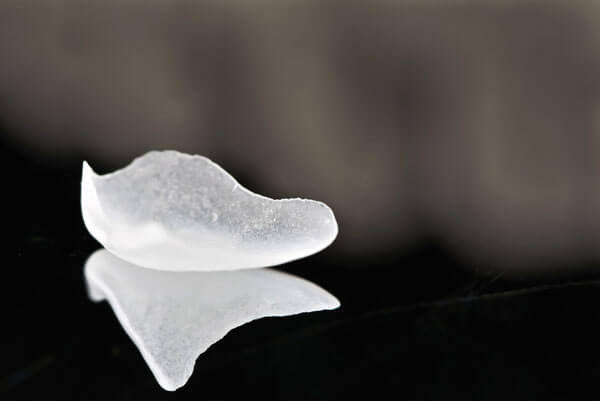 ---
Porcelain veneers are thin pieces of porcelain used to recreate the natural look of teeth. This is accomplished to correct the size, color, or position of your front teeth. To place a veneer, a very small amount of the original tooth enamel may have to be removed and an impression is made. A temporary restoration is placed while the veneers are being made. During the second visit, an adhesive layer is placed between the tooth and the veneer and hardened with a curing light.
---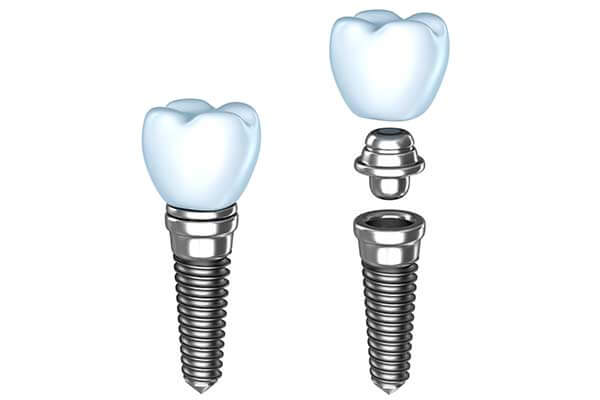 ---
Dental implants are used to replace tooth roots. Implants provide a strong foundation for fixed or removable replacement teeth. Dental implants are small anchors made of biocompatible metal, called titanium, placed in the jawbone. The anchors begin to fuse with the bone over a few months. After the fusing process, known as osseointegration, abutment posts are inserted into the anchors to allow for the attachment of the replacement teeth. To fabricate the replacement teeth, an impression is taken and a model of the bite is created. The replacement teeth are based on this model. Replacement teeth can either be crowns, bridges or dentures.
---
Implant Supported Dentures
---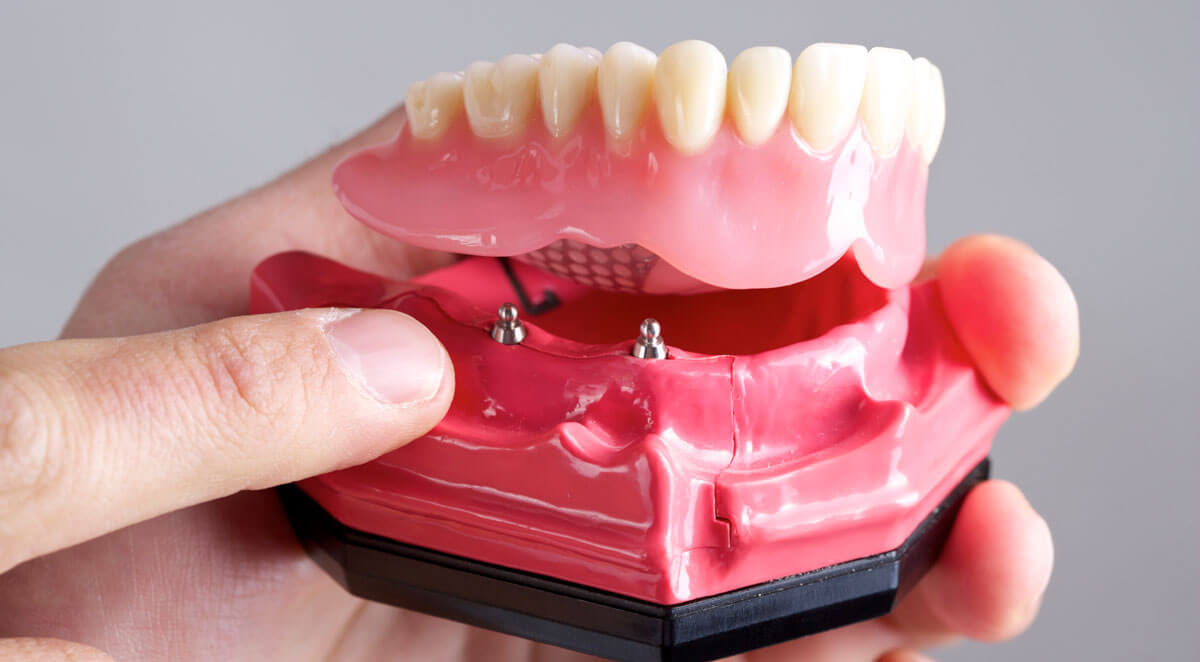 ---
Implant supported dentures can be either fixed or removable. This solution requires the placement of two or more implants. If a removable denture is selected, the denture will "snap" on to the implant rather than requiring the use of denture paste or adhesives. Removable dentures can be taken out for cleaning at night.
This technique offers many advantages over traditional dentures.
Easy to care for, this solution can simulate the look and feel of natural teeth and stay fixed in place with the implants acting as anchors. Patients will not experience the typical rocking and movement or gum irritation associated with dentures.
Dental implant placement can also help alleviate the sunken look that can occur with bone loss in the jaw by stimulating bone growth in the area around the implant. This process is called osseointegration and can also help prevent future bone loss.
---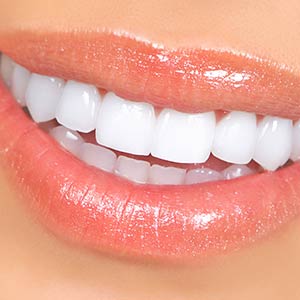 ---
Invisalign® takes a modern approach to straightening teeth, using a custom-made series of aligners created for you and only you. These aligner trays are made of smooth, comfortable and virtually invisible plastic that you wear over your teeth. Wearing the aligners will gradually and gently shift your teeth into place, based on the exact movements your dentist or orthodontist plans out for you. There are no metal brackets to attach and no wires to tighten. You just pop in a new set of aligners approximately every two weeks, until your treatment is complete. You'll achieve a great smile with little interference in your daily life. The best part about the whole process is that most people won't even know that you're straightening your teeth. 
---
Opalescence® Tooth Whitening System
---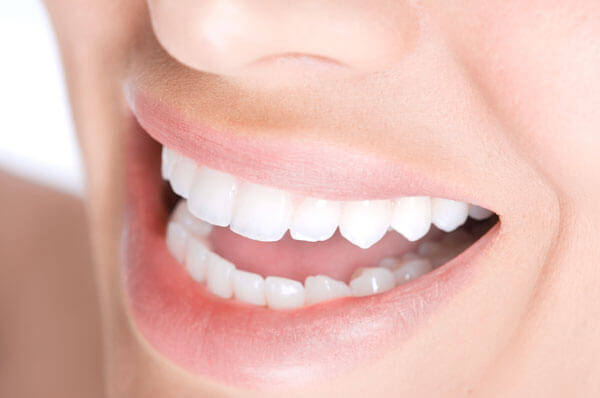 ---
Opalescence® Tooth Whitening System is the procedure used to brighten teeth. There are two different ways Opalescence® can help you achieve a whiter smile: In-Office and At-Home.
In-Office Whitening usually requires only one office visit. A protective gel or a rubber shield is placed over the gums to protect the soft tissue. A bleaching agent is applied to the teeth, and a laser light is then used to enhance the action of the whitening agent .
At-Home Whitening requires an impression of the teeth to be taken to make a customized mouth guard to hold the whitening gel against the teeth. Once the mouth guard is made, it is worn for a period of time, as instructed by our office. The amount of time may vary from a couple hours a day, or all night, to up to four weeks or longer, if desired.
---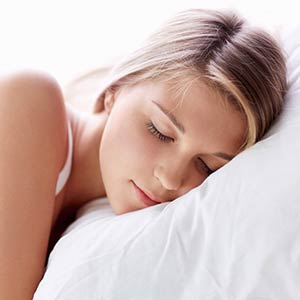 ---
Nitrous Oxide
---
Nitrous oxide, sometimes referred to as "laughing gas," is an effective and safe sedation agent that is inhaled through a mask that fits over your nose to help you relax. Mixed with oxygen, Nitrous oxide allows you to breathe normally through your nose and within minutes you should start to feel the effects. You may feel light-headed or a tingling in your arms and legs. Some patient's comment that their legs and arms feel heavy. Ultimately, you should feel comfortable and calm. The effects of nitrous oxide wear off quickly after the small mask is removed. Talk to the doctor about whether nitrous oxide would be a good option for you.
---
Conscious Oral Sedation
---
Conscious oral sedation is an alternative minimal sedation that allows you to remain awake but relaxed. For people who have a fear of dental procedures, conscious sedation may take away some of the anxiety. The doctor will combine the use of oral sedation along with a local anesthetic so you have little to no discomfort. You should plan to have someone bring you to the appointment and be available to drive you home following treatment.